Our bathroom remodeling is of the highest quality, exceeding industry standards.
Our quality bathroom remodeling projects are very affordable!
With over 25 years of experience, we guarantee quality service!
We provide free estimates for your bathroom project, so give us a call today!
Webster & Sons
We give free estimates for your new bathroom project. We'll gladly answer your questions when you contact us or at the time of your estimate.
Call us today at 336-593-2540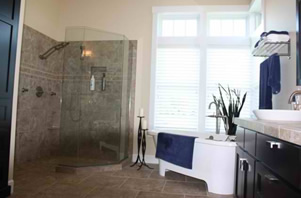 Webster and Sons did an amazing job with our bathroom project! The workmanship was top quality and very reasonable!

see more photos
Other Services
Webster and Sons is a full service plumbing and bathroom remodeling company. We have over 25 years experience providing affordable, quality services to Winston-Salem, Greensboro, Kernersville and surrounding communities. We offer 24/7 plumbing repair services!

-Visit our plumbing repair and new contruction website!