Our bathroom remodeling is of the highest quality, exceeding industry standards.
Our quality bathroom remodeling projects are very affordable!
With over 25 years of experience, we guarantee quality service!
We provide free estimates for your bathroom project, so give us a call today!
Webster & Sons
We give free estimates for your new bathroom project. We'll gladly answer your questions when you contact us or at the time of your estimate.
Call us today at 336-593-2540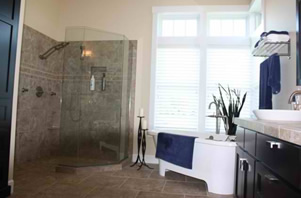 Webster and Sons did an amazing job with our bathroom project! The workmanship was top quality and very reasonable!

read more
Frequent Questions
Are your bathroom projects expensive?

No, our remodeling projects run hundreds of dollars less than our competitors and the quality of our work meets or exceeds our competitors.


How much can I expect to spend on a bathroom remodeling?

Each project is customized for your needs. We do offer a tub or shower enclosure remodel for $2400. Contact us for a free estimate.


Are your enclosures waterproof?

Yes, we treat the walls before final installation to ensure they are 100% waterproof.


How long does a bathroom remodeling take?

Each project is customized for our client's needs so it depends on the extent of the project. Shower enclosure remodels can take a s little as one day, and full bathroom remodels as little as three days.


Do you guarantee your work?

Yes, we stand 100% behind the quality and workmanship of all our services.


What forms of payment do you accept?

We accept cash, checks, and most major credit cards.