Our bathroom remodeling is of the highest quality, exceeding industry standards.
Our quality bathroom remodeling projects are very affordable!
With over 25 years of experience, we guarantee quality service!
We provide free estimates for your bathroom project, so give us a call today!
Webster & Sons
We give free estimates for your new bathroom project. We'll gladly answer your questions when you contact us or at the time of your estimate.
Call us today at 336-593-2540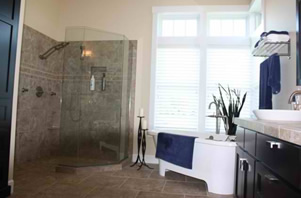 Webster and Sons did an amazing job with our bathroom project! The workmanship was top quality and very reasonable!

see more photos
Testimonials
"Webster and Sons did an amazing job with our bathroom project! The workmanship was top quality and very reasonable!"

-Thomas P. (Winston-Salem)


"We are so very happy with the work from Webster and Sons. Our new bathroom makes it feel like we have a new home!"

-Paula S. (Kernersville)


"Calling Webster & Sons to do our bathroom remodeling has been the best decision we've made in a long time! Top quality work! We strongly recommend Webster and Sons."

-Frank & Susan K. (Clemmons)


"I 'highly' recommend Webster & Sons plumbing repair / bath remodeling for any of your needs with plumbing or bath remodel. They were very meticulous in their every step, always asking us questions along the way to be sure they did as we expected. They actually went over and beyond to extra things we requested that weren't part of the package, most at no extra cost to us. We feel the cost was clearly a great deal as we had many other estimates before choosing Webster."

-Mark & Judy H. (High Point)


"Our new bathroom from Webster and Sons is so amazing! We love the new tile and the shower is gorgeous!"

-Samantha T. (Greensboro)


"It has been remarkable to witness such a transformation. Our bathroom was in desperate need of a complete make-over. Webster and Sons were the perfect ones to call. They were extremely proficient, courteous and professional. My family and I are very proud of our bathroom transformation."

-Alex G. (Winston-Salem - Police Officer)


"Webster and Sons did an outstanding job on my bathroom remodel. It is unusual nowadays to find someone that is great at their craft, honest, and fair! I would recommend them to anyone, and already have."

-"J.M." H. (High Point)